Tag Archive | Boise State Broncos
NEW YORK– By Jason Greenfield
With today's news that Rutgers is going to the Big 10, the Big East suffered another huge blow in its hopes for a relevant football conference.
Over the past couple of years, we have seen major conference realignments all over college athletics due to the tremendous popularity and money of college football. College football is where the big money comes in and major colleges realize this, so we are seeing major teams switching conferences and a few power conferences forming.
The Big East lost their best football team last year in West Virginia, who moved to the Big 12. Pittsburgh, a successful football team past couple of years that has produced great NFL talent over the past several years (Larry Fitzgerald, LaSean McCoy and Darrellle Revis) as well as Syracuse and Notre Dame will be moving to the ACC next year.
A once powerful and feared basketball conference is losing all its members, and is trying to rebuild without adding major teams. The Big East plans to add Boise State, Memphis, UCF, SMU and San Diego State and many of these teams who manly don't even play on the eastern part of the country.
It just doesn't look like the Big East is going to be able to stay together. UConn or Louisville will probably be leaving to replace Maryland in the ACC and Boise State and San Diego State may return to the Mountain West. The end could be near for the Big East.
NEW YORK– By Jason Greenfield
#9 South Carolina 17
Vanderbilt 13
Last Thursday night, South Carolina got more than they bargained for against Vanderbilt. The Gamecocks had no breathing room until 1:47 left in the 4th quarter, when Vandy turned over the ball on downs (the play was very questionable, in that a passing interference should have been called but was missed).
During the game South Carolina experienced a big scare, when starting quarterback Connor Shaw had to go into the locker room with an apparent shoulder injury. South Carolina's offense took a major hit in his absence. He would return later on in the 3rd quarter, and was a huge reason why they won the game. Even though he only threw for 67 yards, he rushed for 92 and orchestrated a game winning drive for the Gamecocks. (An injury update on Connor Shaw is that he "has trouble lifting his arm, and it's a wait and see right now," according to Coach Steve Spurrier).
A tremendous positive and crucial thing came out of Thursday night victory, and that was the return of junior running back Marcus Lattimore. This was the first game for Lattimore since he tore his ACL last season, and it appears he hasn't lost a beat. Lattimore, who was probably the player of the game, rushed for 110 yards and had the only two TDs for the Gamecocks.
#13 Michigan State 17
#24 Boise State 13
Boise State's six straight wins against BCS conference teams didn't mean much last Friday night. Boise State looked like a completely different offensive team, only scoring 13 points, and that is because they are a completely different offensive team.
Boise State had to replace college football's all-time winningest quarterback Kellen Moore who went 49-3 in his career (Moore was signed by the Detroit Lions), and the Broncos also had to replace a very productive running back in Doug Martin (drafted in the first round by the Tampa Bay Buccaneers). There were a number of reasons why Boise State lost: one was having to face a very good Michigan State defense, which caused all sorts of problems for the Broncos offense.
Boise State QB Joe Southwick completed less than half of his passes with an interception, and the rushing game did not come to play, rushing 24 times and gaining 37 yards. Maybe the biggest reason why the Spartans won was because of running back Le'Veon Bell. This was Bell's first start as the starting running back for the Spartans and he shined, carrying the ball 44 times and gaining 210 yards, and he had Michigan State's only two TDs. Bell also helped out in the passing game, which needed help gaining 55 yards.
The Spartans, like the Broncos, had to replace their QB last year in Kirk Cousins (drafted by the Washington Redskins) with Andrew Maxwell. Maxwell didn't have the best start of his career having three picks, and relied on Bell to carry the load.
#2 Alabama 41
#8 Michigan 14
In the most anticipated game of the week, where two top-ten teams met with likely tremendous impact on the BCS seedings later on in the season, the defending champion Crimson Tide dominated the Michigan Wolverines. Alabama's defense, which had to replace most of its 2011 unit a defense that was the best in college football with six starters going to the NFL, dominated and bullied Michigan all game long.
Michigan QB Denard Robinson, who many consider a possible Heisman candidate, could not figure out the Crimson Tide defense. Robinson only rushed for 27 yards, completed less than half of his passes and threw 2 interceptions (one of those interceptions were returned for a touchdown). Alabama's defense was not the only reason why they won the game; the Crimson Tide offense torched the Michigan defense. Alabama was up 24-0 with 9:53 left in the second quarter, until CJ Mosley of Alabama picked off a Robinson pass and returned the int for a 16 yard touchdown, and opened up the biggest lead of the game 31-0, basically ending the game. Alabama was led by QB AJ McCarron who went 11/21 gaining 199 yds and had 2 TDs and RB TJ Yeldon, a freshman, had a good game by rushing 11 times for 111 and a TD. He replaced Trent Richardson, who was drafted 3rd in the NFL Draft. Alabama showed the nation that even though they lost some of their starters to the NFL, this team is just as good and can repeat as champions.
NEW YORK– By Bob Cowper
Check out picks 1-10 and 11-20!
#21: Cincinnati Bengals, Stephon Gilmore (CB, South Carolina)

With the Bengals addressing their defensive front seven with their first pick, they are free to look elsewhere with the 21st pick. Ultimately, the Bengals need to improve at both RB and on the offensive line, but none of the remaining players at those positions warrant the pick. Cincinnati signed free agents Terrence Newman and Jason Allen, but neither are guaranteed to be starters at CB and both could end up competing for a job at safety. For some, the pick between Gilmore and Dre Kirkpatrick is a toss-up, but I'm leaning to Gilmore.
#22: Cleveland Browns, Chandler Jones (DE, Syracuse)

The Browns need to decide if they are happy with QB Colt McCoy or if they need to go in a different direction. I would suggest keeping McCoy as the starter and building around him. He may not be the most talented QB, but he has enough talent to distribute the ball given he has playmakers surrounding him. If the Browns miss on Richardson or Blackmon, expect this pick to be WR Kendall Wright. Since I have the Browns taking Blackmon, I think they'll use this pick to help out on the defensive side of the ball.  DE Chandler Jones has been shooting up draft boards and may find himself in a familiar shade of orange. Jones only tallied 10.5 sacks in three years at Syracuse, but his size (a lanky 6'5) and pedigree (one brother is Jon Bones Jones of UFC fame and another is Art Jones on the Ravens) highlight his potential.
#23: Detroit Lions, Dre Kirkpatrick (CB, Alabama)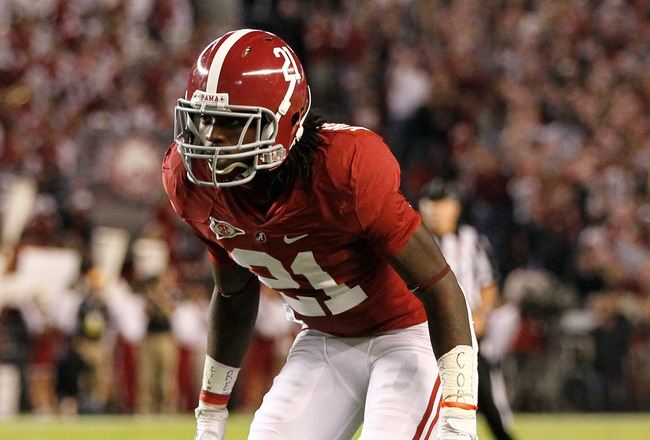 The Lions lost veteran CB Eric Wright in free agency and need to replace his 74 tackles (third on the team) and four INT's (second on the team). They can look to either Kirkpatrick or CB Janoris Jenkins. Jenkins has some off-field character issues and I do not believe that Coach Jim Schwartz will select him despite Jenkins being the better athlete. Kirkpatrick's stats aren't incredible (90 career tackles, three INT's), but he has a winning attitude (two BCS Championships) and played he on one of the NCAA's best all-time defenses.
#24: Pittsburgh Steelers, Amini Silatolu (OG, Midwestern State)

If you've never heard of Silatolu, don't worry, not many people have. Silatolu ended up at DII Midwestern State due to academic issues and hasn't really been heard from until his NFL Combine invite. Silatolu is the second best OG on the board and can help solidify a Steelers' offensive line that allowed 42 sacks That should improve for a team that usually counts itself as the cream of the NFL crop.
#25: Denver Broncos, Janoris Jenkins (CB, North Alabama)

The Broncos lost CB Andre Goodman in free agency, but added former Saints starter Tracy Porter. While I do believe this is an upgrade for Denver, I don't think it solves the problem in the secondary. Champ Bailey will be 34 at the start of the season and will need to be replaced sooner rather than later. I think the best move is to bring in somebody like Jenkins who will not need to start immediately and can develop into the shutdown corner that can take over for Bailey in a season or two. Jenkins had 121 tackles and seven INT's in three seasons at Florida before transferring to North Alabama after being dismissed from the team on drug charges.
#26: Houston Texans, Kendall Wright (WR, Baylor)  

Andre Johnson couldn't stay healthy and in his stead, Kevin Walter and Jacoby Jones faltered. You have to assume that Johnson will get healthy for 2012, but after seeing the inconsistencies in the rest of the WR corps, the Texans need to upgrade. Wright is a smaller (5'10, 190 pounds) possession receiver who has some speed. In his senior season, Wright grabbed 108 balls for 1,663 yards and 14 TD's. Some of this was inflated due to Robert Griffin III's Heisman performance, but Wright is still a solid talent who should displace Jones or Walter in the Texans three WR sets.
#27: New England Patriots, Jerel Worthy (DT, Michigan State)

Worthy and Penn State's Devin Still are the best DT's remaining on the board at this point for the Patriots. Worthy has some pass rushing ability (12 sacks in three seasons) from the DT position and would play a nice complement to Vince Wilfork's space eating NT size.
#28: Green Bay Packers, Jonathan Martin (OT, Stanford)

The Packers averaged just 3.9 yards per carry and allowed All-Pro QB Aaron Rodgers and Matt Flynn to get sacked 41 times. It seems like they have drafted a glut of offensive lineman in recent memory (10 in the last five drafts to be exact) but they are still in need of help. Jonathan Martin would be picked in the second round in most years, but the drop-off from the elite OT's to the mediocre ones means teams who need help at the position (see Arizona as well) will need to reach for their player.
#29: Baltimore Ravens, Dont'a Hightower (ILB, Alabama)

Is there a better way to prepare for a long NFL career than studying under Ray Lewis' wing for one or two seasons (or however long he has left in the tank)? Probably not. Hightower isn't the most talented linebacker I've ever seen but he's steady and consistent and should be a welcome addition to an aging Ravens defense. Since 2010, Hightower has 19 games where he has recorded five or more tackles.
#30: San Francisco 49ers, Coby Fleener (TE, Stanford)

This is more of a "want" pick than a "need" pick for the 49ers. Coach Jim Harbaugh knows and loves Fleener from his days in Palo Alto. The 49ers have focused on the run under Harbaugh (third most attempts in 2011) and would be able to employ deadly two TE sets with Fleener and Vernon Davis. Defenses would have to prepare for the rush but also drop linebackers in coverage for the TE's; this could be a boon for RB Frank Gore and QB Alex Smith.
#31: New England Patriots, Stephen Hill (WR, Georgia Tech)

Hill's lack of numbers at Georgia Tech, since they run the triple option, would not scare off the Patriots like some other clubs. Don't forget, the Patriots took QB Julian Edelman and converted him into a WR (who also played DB in a pinch) and are no stranger to getting the most out of somebody's talent no matter what the stat sheet says.  All that being said, a 29.29 yards per catch average cannot be ignored; Hill is a great athlete who will complement the possession threats of Wes Welker, Rob Gronkowski and Aaron Hernandez.
#32: New York Giants, Shea McClellin (OLB, Boise State)

What to give the team that has everything? Probably an LB to replace Chase Blackburn. If Dont'a Hightower is still available at 32, the Giants will take him without more than 10 seconds ticking off the draft clock. If he's not available, I think they'll have to think about it a bit more. McClellin does not fill an immediate need but he has the type of motor and winning pedigree that the Giants front office will fall in love with. McClellin recorded 50 tackles, seven sacks, two INT's, a forced fumble and a blocked kick in his senior season at Boise State.