Archive | June 11, 2012
1) Sam Bowie, Portland Trail Blazers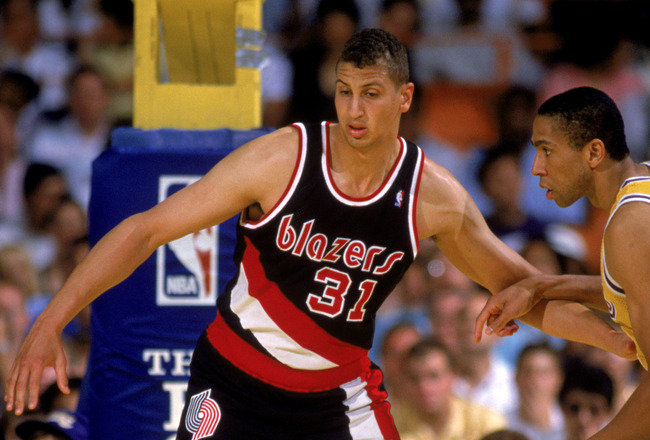 What if Portland had taken Michael Jordan instead of the Kentucky forward? How many championships would the Blazers have won? We'll never know.
2) Darko Milicic, Detroit Pistons
With the second overall pick in a legendary draft class and a championship in their pocket, Pistons GM Joe Dumars could have solidified a team's dynasty for years had he picked Carmelo Anthony, Dwyane Wade or Chris Bosh. Instead? Darko.
3) Kwame Brown, Washington Wizards
Michael Jordan's first ever draft pick could not have gone worse. With Tyson Chandler, Pau Gasol and Joe Johnson all top players taken in the top 10 of the 2001 draft, Jordan selected a high school big man from Georgia and it ultimately marred Jordan's tenure in DC.
4) Adam Morrison, Charlotte Bobcats
Brandon Roy, Rudy Gay and Rajon Rondo are just three players Jordan could have drafted to bring the Bobcats out of their decade-long funk. Instead, Jordan took the shaggy haired Gonzaga kid who was an immense flop in the NBA.
5) Nikoloz Tskitishvili, Denver Nuggets
Other big men in the 2002 draft included Nene, who the Nuggets ended up getting, and Amar'e Stoudemire but Denver became enamored with this 6'11 Georgian and took him with the fifth overall pick.
6) Robert Tractor Traylor, Milwaukee Bucks
The Bucks originally drafted some German guy named Dirk Nowitzki but traded his rights to Dallas for Traylor and he never had the career everyone had envisioned when he starred at Michigan. Traylor passed away in May of 2011.
7) Joe Barry Carroll, Golden State Warriors
To trade up for the top overall pick in 1980, the Warriors sent Robert Parrish and a first round pick that ultimately turned into Kevin McHale. So two Hall Of Fame players for Carroll. Yikes.
8 ) Michael Olowokandi, Los Angeles Clippers
Elgin Baylor was known as one of the worst GM's of all time and took the University of the Pacific center first overall ahead of Nowitzki, Vince Carter, Antwan Jamison and Paul Pierce.
9) Joe Smith and Adonal Foyle, Golden State Warriors
Golden State took Smith with the top overall pick in 1995 over a high ceiling high school player named Kevin Garnett. Two years later, Foyle, a center from Colgate, was drafted over a high ceiling high school player named Tracy McGrady.
10) Marvin Williams, Atlanta Hawks
He's a good player, don't get me wrong, but the players the Hawks passed up in 2005 included Chris Paul, Deron Williams, Andrew Bynum and Danny Granger to name a few.
Honorable Mention) Greg Oden, Portland TrailBlazers
Hard not to think Oden over Kevin Durant could be the new Bowie over Jordan?