Archive | May 18, 2012
NEW YORK– By Mo Miller
Let's go back to 2006, shall we? David Wright was one of the best third basemen, and one the best players in the MLB. In 2007, more of the same. Same thing for 2008. In those three years, Wright hit for a combined .312 average with 89 HRs, and 347 RBIs. Averaging it out, Wright played 158 games per season, with just under 30 home runs, and 116 RBIs. Citi Field came along in 2009 and Wright's numbers dipped.
Until 2011, Wright had three forgetful seasons. He averaged 134 games played, with a .284 average, with 18 HRs and 79 RBIs per season. Wright was not just off at the plate, but also off in the field. His throws were off line, he lost his cat-like quickness that won him Gold Gloves in 2007 and 2008. Enter 2012, Wright has been nothing short of sensational both at bat and in the field.
It's 38 games into the 2012 season and Wright's Mets are exceeding expectations with a 21-17 record, and it's mainly thanks to the unofficial captain, Wright. Wright has missed sat three games all season (due to a fractured pinky), and is now batting .411/.513/.621 with four home runs and 22 RBIs after Thursday's 9-4 Mets win over Cincinnati. Wright's .411 average and .513 OBP lead the major leagues. So what's going (W)right this season for David?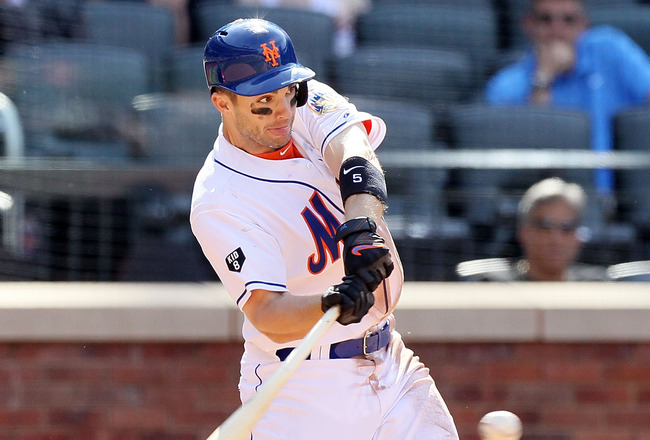 First and foremost, his strikeouts are down. Over the last three seasons, Wright averaged a strikeout once every 3.8 at bats, with a 2.04 strikeout to walk ratio. Going into Thursday's game, Wright has struck out once every 5.8 at bats with a 0.88 strikeout to walk ratio. In 2006-2008, Wright averaged 5.8 at bats between strikeouts, with a 1.36 strikeout to walk ratio. Wright is seeing the ball better, and is on target when he makes contact.
Over the past few years, Wright was late on fastballs or couldn't reach those fastballs on the outside corner. So far in 2012, as the numbers indicate, Wright has been less prone to the strikeout, leading to more hits. The most telling number is Wright's balls in play percentage. From 2006-2008 Wright put the ball in play 68% of the time. Between 2009 and 2011, Wright hit the ball in play 62% of the time. This season? 67% of the time. It's made a tremendous difference.
Secondly, there's been a difference in how Wright's been hitting the ball.  So far in 2012, 10.2 percent of Wright's hits have been extra base hits, right around at his 2006-2008 average of 10.5 percent. Wright has hit line drives for a quarter of all balls he's put into play. That percentage tells us Wright has kept an even swing. In recent years, it had looked like Wright's swing had evolved into a little bit of an upper cut, especially since the creation of the formerly cavernous Citi Field. The fact that Wright has hit line drives for one quarter of all balls in play, tells us if Wright had more of an upper cut in his swing and he has since leveled it. Wright is no longer trying to hit 500 foot bombs, but rather just get good wood on the ball.
Last but not least, Wright's leadership has also set him apart. It won't show up in any box score, but ask any Mets player, coach or fan, and they will tell you Wright is the leader of the Mets, their unofficial "captain."
Monday night, following D.J. Carrassco's beaning of Ryan Braun, when the Mets came up to bat, Terry Collins quickly removed Wright from the lineup, not wanting his star player to get hurt. Wright was upset at his manager since he wanted to be the guy to take the hit for the team. This is finally Wright's team. Carlos Beltran is gone. Carlos Delgado? Gone. Jose Reyes is in Miami. Wright goes out on the field knowing that it's his team now, and he has to set an example for all the young players on the team. He goes out everyday and plays his heart out, even playing with a broken finger!
In recent years, there was worry that the burden of the Mets was getting to Wright, and that's why he was struggling. Wright has come out in 2012 and is trying to prove all his critics wrong, even team owner Fred Wilpon, who this week went back on his statement from last year of calling Wright "not a superstar",  and is ready to be the leader of the Mets in all aspects. Wright has stepped his game up to a new level, and the Mets are competitive because of it.