NBA Second Round Playoffs Predictions
Only one seeding upset occurred in round one, the Clippers' thrilling seven game series win over Memphis, (I wouldn't consider Philadelphia beating the Derrick Rose-less Bulls an upset) but Oklahoma City's surprising sweep of defending champion Dallas and the Lakers' near loss in game seven of its series with Denver provided a ton of excitement in the first round. What's in store for the NBA's quarterfinals? Let's take a look.
Eastern Conference
Miami over Indiana in five- Chris Bosh is out and the Heat still beat the Pacers, who have given Miami trouble this season, that quickly? Absolutely. With more of the responsibilities down low falling to LeBron James, he'll actually rise to the occasion and allow underrated guards Mario Chalmers and Norris Cole more room to operate. Danny Granger will be well defended by James and Dwayne Wade, so it falls on Roy Hibbert and David West to keep Indiana in this series. If they can do it, this series will go six or seven. They won't be able to keep them in it.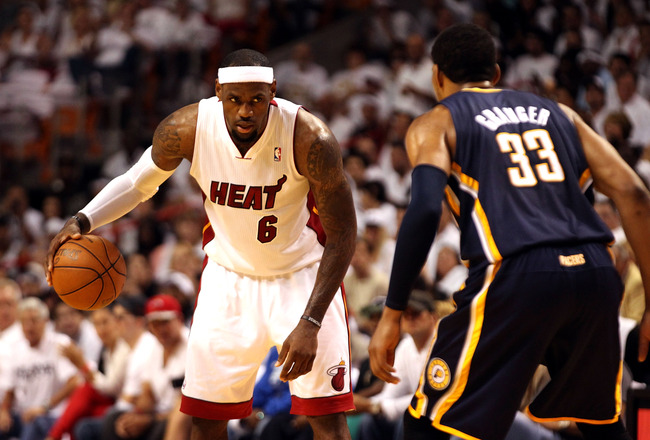 Celtics over Sixers in six- Like Philadelphia's series last year with Miami, their depth will allow them to stay competitive in games and allow them to even win a couple. But the sheer dominance shown by Rajon Rondo and Kevin Garnett in this postseason will propel Boston forward. Andre Iguodala is the x-factor for Philadelphia–and I'm not talking about Britney Spears or Demi Lovato–he has to take control, because he's the only player with the ability to take over games for the Sixers.
Western Conference
Spurs over Clippers in six- I can't wait for the Tony Parker-Chris Paul matchup. Two of the elite point guards this season going toe to toe until one of these teams win four contests. San Antonio did a tremendous job on Utah bigs Paul Millsap and Al Jefferson in the first round and will need a similar effort against Blake Griffin and DeAndre Jordan. The key to this series could be the play of Manu Ginobili, who no one on Los Angeles can really deal with.
Thunder over Lakers in six- The Lakers are banged up and had trouble against the Nuggets. Kevin Durant and Kobe Bryant are the top two scorers in the league and should cancel each other out. If Pau Gasol and Andrew Bynum do not win the battle down low with Kendrick Perkins and Serge Ibaka, this will be a short series. Los Angeles won't be able to deal with Russell Westbrook and James Harden, despite all of Metta World Peace's anticipated antics.