Is Phillies-Nationals The Next Great Baseball Rivalry?
After Phillies starter beaned Nationals phenom Bryce Harper in Sunday night's win for Philadelphia, Cole Hamels admitted he hit Harper with a fastball on purpose, calling it his "welcome to the big leagues" moment. It was really the "welcome to the rivalry" moment for the Phillies and Nationals.
Both teams have more than its fare share of marketable stars. Philadelphia has Hamels, Cliff Lee, Roy Halladay, Jonathan Papelbon and injured sluggers Ryan Howard and Chase Utley. Washington now has Harper, Stephen Strasburg, the injured Ryan Zimmerman and former Phillie Jayson Werth, who just broke his wrist on Sunday night. As you can see in this video, there's now bad blood between the two clubs.

After the game, Nationals General Manager Mike Rizzo then went off on Hamels to fan the flames of this newly kindled rivalry, as reported by the Washington Post's Adam Kilgore.
Rizzo called Hamels "fake tough" and that was the nicest thing he said about the star southpaw. "I've never seen a more classless, gutless chicken shit act in my 30 years in baseball. Cole Hamels says he's old school? He's the polar opposite of old school. He's fake tough. He thinks he's going to intimidate us after hitting our 19-year rookie who's eight games into the big leagues? He doesn't know who he's dealing with."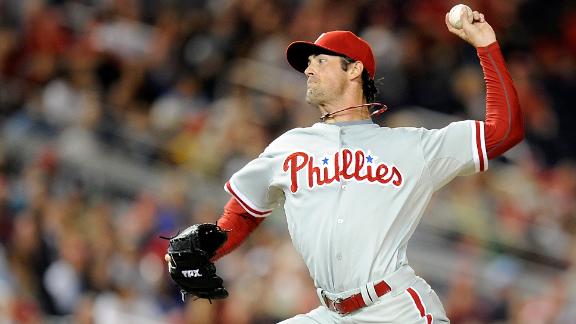 Rizzo was not finished ranting on Hamels, perhaps igniting a heated rivalry between the two NL East teams: "He thinks he's sending a message to us of being a tough guy. He's sending the polar opposite message. He says he's being honest; well, I'm being honest. It was a gutless chicken shit [bleeping] act. That was a fake-tough act. No one has ever accused Cole Hamels of being old school."
Interestingly, Rizzo equated the Hamels beanball incident to the New Orleans Saints BountyGate incident with players trying to intentionally hurting players. "With all the bounty [stuff] going on in professional football, the commissioner better act with a purpose on this thing," Rizzo said. "Players have a way of monitoring themselves. We're not here to hit people and hurt people."
Philadelphia and Washington next play May 21-23. Everyone is already marking their calendars for the next incarnation of baseball's next big rivalry, but some aren't sure that there's enough winning involved to qualify as a rivalry. "Washington hasn't proven anything yet," says Pat Gallen, an editor at PhilliesNation.com and a radio and TV sports host.
With the Nats tied for the best record in the National League, perhaps it won't be too long before Washington and Philadelphia becomes a top notch baseball rivalry according to everyone's criteria.