Amar'e Stoudemire A Necessary Evil For New York Knicks
If you don't watch the show Fringe, you should. I highly recommend it. A lot of the show has to do with a pair of alternate universes and how one small act could lead to a chain reaction of other events that could change the world. This article will deal with a relatively minor scenario: Amar'e Stoudemire. If the Knicks had not signed Stoudemire in the summer of 2010, what would the team look like right now?
Would Carmelo Anthony have gone to a team without a superstar? They'd likely be a decent team with Danilo Gallinari, Wilson Chandler, Iman Shumpert, Timofey Mozgov and others. Had they struck out on free agency altogether, David Lee may still even be on the roster. It would be a fun team to watch but not nearly the draw they are now with Amar'e, Melo and Jeremy Lin drawing worldwide attention. Maybe they would have acquired Dwight Howard, who knows? What we do know is that signing Stoudemire was necessary to set the wheels in motion for the rebirth of a franchise.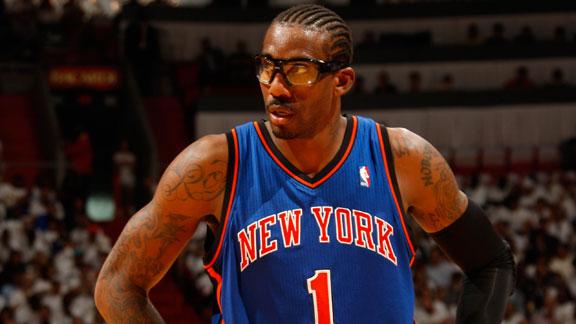 If you don't know what happened to Stoudemire after Monday's frustrating game two playoff loss to Miami, Google it. Or watch SportsCenter. Or ask someone on Facebook. The laceration on this hand will cause him to miss at least one game, if not the rest of the Knicks' futile attempt to hang with the clearly superior Heat. It would not be a stretch to say that Stoudemire has become a nine-figure, uninsured liability. An overpriced albatross who would be better for the team if he spent each game sitting on the bench wearing fancy designer suits, looking dapper but depressed.
Having watched the Knicks, there's no question the current Mike Woodson-coached, iso-Melo Knicks would be better off with STAT riding the pine. However, like the Fringe alternate universe where the Brooklyn Dodgers are division rivals with the Montreal Expos, we don't know what the current Knicks would look like if Stoudemire had taken the leap of faith and signed with New York– unlike LeBron James, Chris Bosh and Joe Johnson.
So whether you as a Knicks fan like it or not, Amar'e is the person who ushered in this new era of a successful New York franchise. So STAT and his overpriced contract, and you as fans, will go along for the ride. Lacerated hand, balky knees and all…