2012 NFL Draft Winners & Losers
The NFL Draft has come and gone and it's difficult to tell who will be good fits for their teams for at least another year or two, but we could base winners and losers on expectations, their college careers and the anticipated fits, or lack thereof, with their new teams.
Winners
Cincinnati Bengals- Their first four picks were really, really good with CB Dre Kirkpatrick and G Kevin Zeitler in the first round and DT Devon Still and WR Mohamed Sanu on the second day. All four should be strong contributors right away. Dan Herron out of Ohio State could be a late steal at running back.

Indianapolis Colts- It's going to take awhile to rebuild the Colts, so they built quality pieces around Andrew Luck, the best QB prospect in quite some time. TE Coby Fleener should immediately be Luck's favorite target and was a slam dunk selection and WR T.Y. Hilton will be an emerging speedster. RB Vick Ballard in the fifth round could be a steal.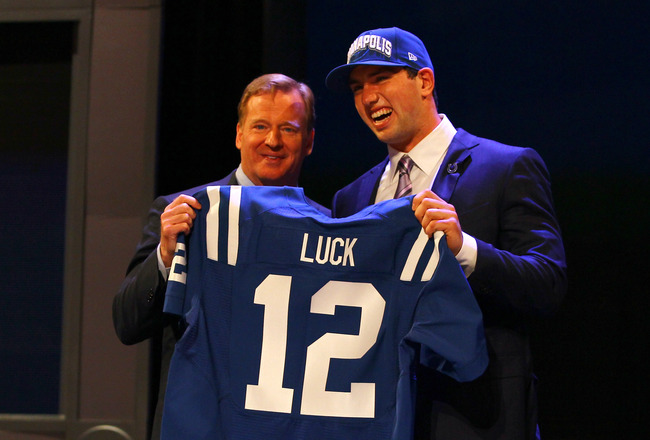 Pittsburgh Steelers- Pittsburgh understands that protecting Ben Roethlisberger for a long time is important. Adding G David DeCastro and T Mike Adams (both who had first round grades) to add to a young offensive line will be huge going forward and Sean Spence will be a strong fit for its linebacking corps. RB Chris Rainey out of Florida is going to be a very intriguing playmaker for this team.


Losers
San Francisco 49ers- If the Niners wanted a wide receiver in the first round, they could have done so much better than A.J. Jenkins. With Frank Gore and Kendall Hunter already in the backfield, taking LaMichael James in the second round is more than a head scratcher.

Denver Broncos- The Broncos are sending football fans mixed messages. They signed Peyton Manning, so they probably want to win now, right? So they pick Brock Osweiler, who is never going to be a good NFL QB, in the second round and San Diego State RB Ronnie Hillman just doesn't do it for me. They didn't help themselves much in its mission to help Manning.

Jacksonville Jaguars- Don't get me wrong, the pick of Justin Blackmon was really, really good. But the Jags took another risky pass rusher in Andre Branch and then took a punter in the third round. Really, Jacksonville? Couldn't have waited until the fifth round to take a punter? Ironically, the punter's last name is Anger, which is the emotion the few dozen fans of the team should feel after this draft.