Archive | April 27, 2012
After a condensed regular season, the NBA Playoffs begin in full force on Saturday. Every game is more magnified, every situation heavily scrutinized. Let's get to the first round picks.
Eastern Conference
Chicago Bulls vs Philadelphia 76ers
The Sixers have the depth to make games interesting against the Bulls. What Chicago has that Philadelphia does not is superior size and…that Derrick Rose guy. That being said, Doug Collins can get a couple of wins out of these Sixers and I expect the Bulls to win in six games.
Miami Heat vs New York Knicks
The games will be exciting, the results will mainly be the same. LeBron James and Dwayne Wade will do too much for the Knicks, who will have to get into a rhythm with Carmelo Anthony and Amar'e Stoudemire over the course of a seven game series. Miami takes this in five games.
Indiana Pacers vs Orlando Magic
Both teams are strong defensively and this series will be won on the perimeter because Dwight Howard won't be there to save Orlando's hide. Indiana's depth and defense will prove too much for a shorthanded Magic team. Pacers win in six.
Atlanta Hawks vs Boston Celtics
Really interesting individual matchups here. Joe Johnson and Paul Pierce. Kevin Garnett and Josh Smith. What Boston has that Atlanta does not is Rajon Rondo, Ray Allen and the motivation of one last playoff run. Boston wins in a classic seven game series.
Western Conference
San Antonio Spurs vs Utah Jazz
San Antonio is no longer going to blow a team out, because role players usually play well only at home during the playoffs. They're more designed to be strong over the long haul. Utah has the size to take a couple of games from the Spurs and make this an interesting series. San Antonio wins in six.
Oklahoma City Thunder vs Dallas Mavericks
This is going to be a war of attrition. These teams know each other all too well. The Mavs have a ton of experience and Dirk Nowitzki and his teammates have proven they can take it to another level in the postseason. OKC could very well lose this series, but I'll pick the Thunder to win in seven.
Los Angeles Lakers vs Denver Nuggets
Denver has a lot of really good players, but no real player with a killer instinct who can take over a game. The Lakers have Kobe Bryant, a dominant front line and a capable point guard in Ramon Sessions. This won't be close, so much so that I'll be bold and call Lakers in a sweep.
Memphis Grizzlies vs Los Angeles Clippers
This will be the best series of the first round. Both teams have deep benches and stars who have proven they can rise up and perform on the big stage, especially Chris Paul and Zach Randolph. Home court will prove to be the deciding factor as Memphis wins in seven.
NEW YORK– By Daniel Friedman
EASTERN CONFERENCE
NEW YORK RANGERS (1) VS. WASHINGTON CAPITALS (7)
The Rangers narrowly escaped with a game seven victory over the Ottawa Senators and, by the looks of things, the next task at hand will be a daunting one as well. This is a Washington team that just knocked-out the mighty Boston Bruins and, in the process, showed that they're capable of playing grind-it-out, playoff-style hockey. They've also got a goaltender in Braden Holtby who's as good as anyone right now.
I think New York pulls this off in seven. They don't have as much firepower as the Caps but they're a better defensive team. If they can keep Alex Ovechkin in check — something they have not done in playoffs past — they're going to have an excellent chance of winning here.

PHILADELPHIA FLYERS (5) VS. NEW JERSEY DEVILS (6)
The Flyers are quite the wild card. They were able to tick the Penguins off to the extent that Sidney Crosby and Marc-Andre Fleury were completely off their games. Despite a horrendous goaltending performance by Ilya Bryzgalov, Philly's offense propelled them into the second round. I will say that Bryzgalov was very good in game six and if you're the Flyers, you're hoping that's the start of a hot streak for the Russian netminder.
New Jersey's big guns were kept relatively silent in the first round, and unless that changes, the Devils could be in trouble. Marty Brodeur came up big when his team needed it most against Florida, but the Flyers have far too many weapons for Brodeur to face on his own. If he'a the only line of defense, this could be a quick series. I like the Flyers in six…if Bryzgalov shows up for 'em.
WESTERN CONFERENCE
ST. LOUIS BLUES (2) VS. LOS ANGELES KINGS (8)
St. Louis dispatched the Sharks in five games, but if they think their next trip to California will be an easy one, they are sorely mistaken. This is a Kings team that is far better than they finished in the standings, as they showed during a triumphant series victory over the Presidents' Trophy-winning Vancouver Canucks. LA's physical style is a lot for opposing teams to handle and, in my opinion, they are better-equipped on offense and between the pipes than the Blues.
Jonathan Quick has been absolutely phenomenal in these playoffs and I'd expect more of the same in this series. The Blues are a very good defensive team in their own right and I think they've got more than enough talent to push this best-of-seven to the brink. But Quick and company have convinced me that they're the real deal. I'm going with LA in seven.
PHOENIX COYOTES (3) VS. NASHVILLE PREDATORS (4)
In the first round, the Predators ousted the Red Wings in five games.
The Red Wings. In FIVE GAMES. This team has everything you look for in a Cup-contender and I think Nashville's really going to take it to the Coyotes in this series. Phoenix showed a lot of heart in beating the Chicago Blackhawks, and Mike Smith continues to be a nightmare for opposing shooters. He'll be tough to beat here too, but I think the Preds have more than enough depth to overwhelm the 'Yotes.
I'm also interested to see how effective Phoenix's offense really is because, with all due respect to 'Hawks goaltender Corey Crawford, he's not exactly a difficult one to beat. Pekka Rinne, on the other hand, is one of the best in the business and I think that's going to be problematic for the opposition in this series. I like Nashville in five.
Our country has a constant love affair with instant gratification. When you can combine instant gratification with our favorite sport, the NFL, you have to do it. So to combine two of America's greatest pleasures and treasures, we give you the knee-jerk, way too early NFL Draft First Round Winners and Losers. The Colts and Redskins are obviously winners for being able to draft franchise quarterbacks, even if Washington gave up a boatload of assets, so we won't include those teams in this list.
First Round Winners
Cleveland Browns- Trent Richardson was called the greatest running back prospect since Adrian Peterson, and Cleveland needed a sparkplug for an offense with a below average QB and an underwhelming corps of receivers. Richardson gives this offense direction and purpose. Then, the Browns traded up and nabbed an intriguing QB prospect in Brandon Weeden, immediately boosting an anemic offense with gutsy moves this franchise has lacked for quite some time.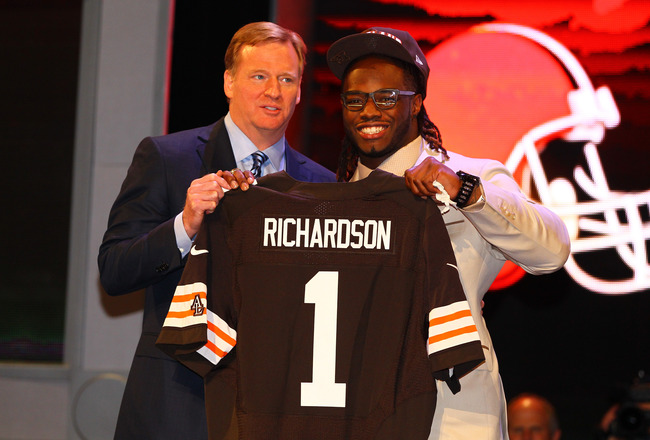 Dallas Cowboys- Rob Ryan's defense is like his brother Rex's; it's all about pressure and forcing quick, rushed decisions. That's all well and good if you have cornerbacks who can cover receivers. Dallas did not have that last season. With the addition of Brandon Carr in free agency and Morris Claiborne via an excellent trade on Thursday to give the Cowboys the sixth overall pick, Ryan now has that strong secondary. DeMarcus Ware could now be unleashed knowing the secondary has changed from a weakness to a strength.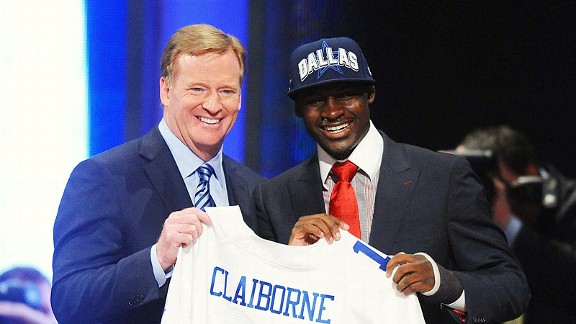 New England Patriots- If you watch football, you know that the Patriots offense was really, really good last season and the defense…not so much. With a boatload of picks at his disposal, including two in the first round, Bill Belichick decided to cash in his chips and trade up for a pair of difference makers on D. Chandler Jones is raw but has the ability to be a menacing pass rusher, like New England's tormentor from this past February, Jason Pierre-Paul. LB Dont'a Hightower comes from a winning tradition in Tuscaloosa and will anchor the linebacking group with Jerrod Mayo for a long, long time.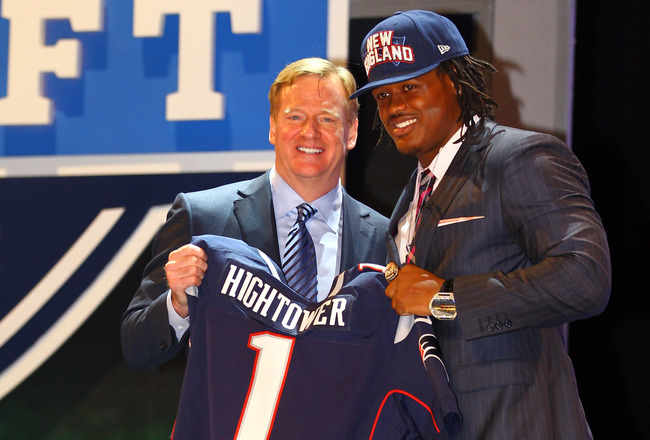 First Round Losers
Seattle Seahawks- Seattle did trade down to 15 to get Bruce Irvin, the LB out of West Virginia. The problem is that Seattle took Irvin with the 15th pick of round one, not the second round. Unless Seattle mistook Thursday for Friday, this is a "mind boggling pick", as Mel Kiper Jr. put it, and will likely set Seattle back unless they have an incredible rest of the draft. Like Seattle's new uniforms, this first pick was ugly and unnecessary.

New York Jets- Of all the Jets' draft picks over the last 15 years, there's one top-10 pick that fans really don't like mentioning: Vernon Gholston. Gholston was a boom or bust, pass rushing end with incredible ability but with poor effort and the propensity to take plays off. Wait a minute…that also describes 2012 first-round pick Quinton Coples, doesn't it? If you're a Jet fan and are reading this in the morning, buy yourself a Bloody Mary. If it's afternoon, buy a beer. Gang Green may have gotten itself another Gholston.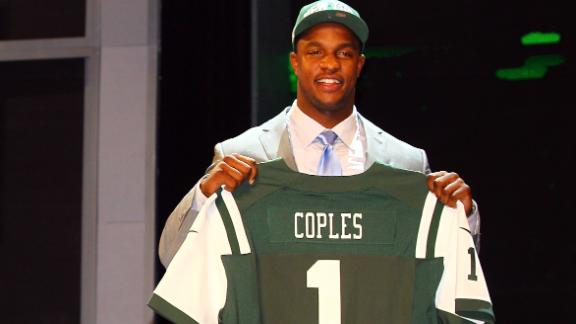 Kansas City Chiefs- Taking a boom or bust pick like Dontari Poe up at 11 wasn't a proper pick given his value. Even if the Chiefs believed he's the next Haloti Ngata, they could have traded down at least a few picks and gotten a third or fourth round pick and still pick Poe. He will make KC look brilliant or incredibly dumb; there's no real in between on this one.