Archive | March 14, 2012
Howard To Opt Into Final Year Of His Contract?
Dwight Howard will not be waiving his early termination option and will still likely be a free agent after the season, says Marc Stein. In a conference call with Magic officials, he said he was going forward with his plans to test the free agent market, though Orlando is his first choice. He was reportedly persuaded by his agent, Dan Fegan, to keep the opt-out in play. Now Orlando has decided they will trade Howard by tomorrow's 3 p.m. deadline, according to Adrian Wojnarowski. New Jersey is the favorite to acquire him via trade and Houston and New Jersey have been in talks today with the Magic. The Knicks and Lakers have also made recent overtures, says Sam Amick, but Marc Spears reports that the Knicks would not want to add Carmelo Anthony into a Howard trade. The biggest obstacle will still be getting ownership to sign off on a deal, says Chris Mannix.
Previous reports out of Orlando said that Howard will not opt out of the final year of his contract and will remain with the Magic. Now we know that's not true. This afternoon, three players have told Yahoo! Sports' Adrian Wojnarowski and Marc Spears that next season was not mentioned in the players meeting where Howard allegedly said he would opt in to next year's contract. "Next year was not even mentioned in meeting…He told us he was "all-in" for this season," one player told Yahoo!.
Orlando is saying that they will do what's best for the franchise, possibly including a trade, and Ken Berger says some Magic staffers are "disgusted" by Howard's comments from Tuesday night and want to trade him ASAP. Many think that Howard wants to stay only for this year so that a team like the Nets or Mavericks don't have to gut their roster to acquire Howard now. It seems like Howard will be sent away.
The Nets are pursuing players with expiring contracts like C.J. Miles and Boris Diaw so they can keep both Howard and Brook Lopez, who will be a restricted free agent, this summer. However, with Dwight Howard in limbo the Diaw talks are on hold while the Nets wonder what the future will bring.
Crawford To Wolves?
Talks between Minnesota and Portland regarding G Jamal Crawford have picked up again, according to Yahoo! Sports' Adrian Wojnarowski. Wojnarowski says those talks are part of a three-way trade where Crawford would go to Minnesota and Michael Beasley heads to the Lakers and Steve Blake goes to Portland. Chris Haynes says the deal is close and Jerry Zgoda agrees. One report says Crawford has played his last game with Portland after a 121-79 loss to the Knicks.
Chris Broussard's Trade Rumor Notes
Chris Broussard went all out on his latest trade rumors: -New Jersey obviously wants Dwight Howard, and would be willing to trade Brook Lopez, MarShon Brooks and picks to get him now.
-The Nets are trying to get Boris Diaw from Charlotte to free up more cap space this summer. Several Boris Diaw scenarios are in play, according to Ken Berger.
-Rajon Rondo won't be traded, but Boston is offering The Big Three to teams.
-Boston offered Paul Pierce to Portland, but it's unknown what the Celtics wanted in return and the Blazers didn't want Pierce's contract. Boston also talked to the Clippers about Ray Allen, but the Clips think they can get Allen in free agency.
-The Clippers didn't want to trade Eric Bledsoe for Crawford. Gerald Wallace, Marcus Camby and Raymond Felton are also on the block in addition to Crawford.
-New Orleans would accept a second round pick for Chris Kaman and Indiana has interest.
-Memphis wants to move Sam Young, San Antonio has interest in Jonny Flynn, New York wants to trade Toney Douglas and Detroit wants to deal Austin Daye (they've turned down two offers from the Western Conference).
-A pair of stars not likely to get traded are Steve Nash and Josh Smith. Phoenix, Portland and Sacramento have interest in Aaron Brooks.
Melo Wants Out?
Carmelo Anthony reportedly told a confidant that he'd rather be traded by Thursday's deadline than play for Knicks head coach Mike D'Antoni, says the New York Post. Now, Anthony has gotten his wish, since D'Antoni is out as Knicks head coach. Anthony believed that D'Antoni and GM Glen Grunwald didn't trust him, but Anthony will not submit a formal trade request. Agent Leon Rose called this rumor "laughable" and that Anthony does not want out.
A very interesting note from TNT's David Aldridge: D'Antoni vociferously advocated for Anthony to be traded to the Nets for Deron Williams and Knicks Owner James Dolan shot him down. That could be one of the reasons for the Anthony-D'Antoni rift and a reason why D'Antoni never seemed overly comfortable with Jeremy Lin.
Of course, that led the Daily News to speculate about a trade that would send Anthony and Tyson Chandler to Orlando for Dwight Howard and Hedo Turkoglu. It'd probably be the best deal Orlando could get at this point, despite Anthony's value being super low, and James Dolan would be able to keep Howard away from the Nets. However as Marc Spears wrote (see above) the Knicks don't want to add Anthony into a Howard trade.
Bulls For Gasol Talks Not Working Well
Chicago had exploratory talks with the Lakers regarding Pau Gasol, says K.C. Johnson, but there are numerous obstacles to hurdle before Thursday's deadline. The Bulls would want to send Carlos Boozer and C.J. Watson, but the Lakers do not like Boozer and want a better PG than Watson. The LA Times reported that Los Angeles wanted Joakim Noah, another player and two first-round picks for Gasol, so perhaps this deal is going nowhere fast. Sean Deveney says the trade is dead.
Bogut-Ellis Blockbuster Fallout
After the Warriors nixed a trade that would have sent Monta Ellis to Orlando, he made it public that he wants out and Golden State sent him to Milwaukee in the Andrew Bogut trade. Golden State did not want to include Ekpe Udoh, but were forced to when Ellis lashed out.
Another interesting wrinkle is that sharpshooter Dorrell Wright also asked to be traded, according to Marcus Thompson, and was visibly upset when he wasn't traded to the Bucks along with Ellis. Another player who does not like the Warriors very much is Stephen Jackson, who Golden State just acquired despite a history of ill will between player and franchise. David Aldridge reports that the trade was completed on Tuesday night so the Warriors have time to try and flip Jackson to another team. Marcus Thompson says the team is listening to offers for Jackson and are looking for a big man.
Brandon Jennings will stay with the Bucks, Sam Amick says, but New Orleans had serious interest and the Bucks are still looking for a big man. On the Warriors end, they even pursued Sacramento's Tyreke Evans before dealing for Bogut.
Jazz Getting Busy Before Deadline
Alex Kennedy reports that the Spurs, Jazz and TimberWolves are discussing a deal that would send Josh Howard to San Antonio. Utah would acquire Danny Green from the Spurs and Wayne Ellington from Minnesota. The Wolves would land C.J. Miles and Jamal Tinsley. Brian Smith reports that the Jazz like both Howard and Miles but it is possible both could get dealt. In addition to San Antonio, the Knicks, Celtics and Lakers have expressed interest in Howard, according to Marc Spears, but Utah doesn't really want to deal Howard.
Miles is being actively shopped by Utah, according to Kennedy, and New Jersey and Minnesota are interested in his expiring deal. The Salt Lake Tribune reports that the Nets are interested in C.J. Miles for Johan Petro and a first round pick, though Chris Mannix says nothing is going on between the two sides right now.
Utah could also deal Raja Bell to the Clippers for a $3.8 million trade exception. Josh Howard and Jamal Tinsley are currently not in play, and Howard will almost definitely stay.
Extra Points
-The Lakers are still interested in acquiring Cleveland's Ramon Sessions, but the Cavs still want a first round pick.
-Michael Beasley is attracting a good deal of interest, including from the Lakers, Houston and Orlando. Nothing is close as of yet, but the Magic offered Jason Richardson, according to Bill Ingram. Courtney Lee and even Kevin Martin could be in play.
-Sacramento inquired about Nicolas Batum of Portland, but Batum is highly regarded by the Blazers.
-The Clippers have had a small amount of interest in Washington's Nick Young.
-Boston has shown interest in Chris Kaman.
-Memphis has interest in Gilbert Arenas. 
Amid a lengthy losing streak a rift with players including Carmelo Anthony and the pressure to succeed with stars like Melo, Amar'e Stoudemire and Jeremy Lin, Mike D'Antoni has resigned as Knicks head coach, as first reported by Yahoo! Sports' Adrian Wojnarowski.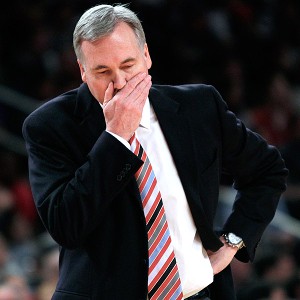 D'Antoni was on the last year of a four-year contract and a source tells Wojnarowski that there were conflicting visions of the team's future, so D'Antoni and the Knicks mutually agreed to part ways. Sam Amick says that it was not a resignation and that both sides agreed it was time for the coach to go. Assistant coaches Dan D'Antoni and Phil Webber are also out, Wojnarowski reports. Mike Woodson takes over as head coach on an interim basis.
A very interesting note from TNT's David Aldridge: D'Antoni vociferously advocated for Anthony to be traded to the Nets for Deron Williams and Knicks Owner James Dolan shot him down. That could be one of the reasons for the Anthony-D'Antoni rift and a reason why D'Antoni never seemed overly comfortable with Jeremy Lin.